Maslinica is a seaport on the west coast of the island of Šolta. The course of the coast is divided into many little bays with beautiful pebble beaches (Tepli bok, Soskova, Poganica, Vela Luka). This quiet cove has changed its fishing tradition for the tourist one, while local food is served in the authentic taverns prepared in the traditional way.
The place is surrounded with varied Mediterranean plants, while olive trees preserve the tradition of an old island craft - olive growing. Summer holidays in Maslinica ("maslina" = olive) provide a quiet rest in the vicinity of attractive excursion destinations: the islands of Hvar, Korčula and Vis, and the towns of Split, Makarska and Dubrovnik.
Restaurants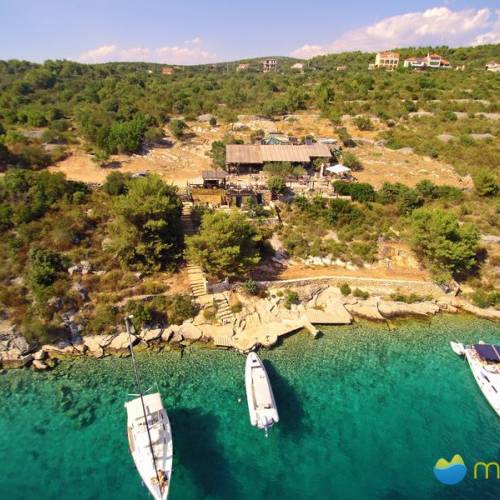 Šišmiš
Imagine yourself eating the tastiest grilled fish and watching the calming sea in a beautiful bay. You can actually live it – Restaurant Šišmiš in Šešula bay on island Šolta is that kind of place. At the end of the bay, built into the hill, this restaurant offers couple of buoys for you to moor your sailing boat. In the high season it is truly impossible to catch a free mooring so we recommend making a reservation. In the restaurant you can also try excellent Croatian wines from the wine bar.
Relaxed atmosphere with a superb view will attract many tourists and satisfy their every demand. This can be your ideal stop if you are starting from our base in Trogir. Sailing out in the morning, this restaurant on Šolta will be the ideal place for you to have lunch.
Book your buoy and a restaurant table here.
Konoba Šešula
It all started with a refrigerator and a few drinks in 2001, and it became a popular spot among boaters. Sesula's menu today offers something for everyone - fish, meat, rosted meat under the bell, pasta, salad ... To guests arriving by boat, Sesula Tavern offers places for mooring. Owner Dino and his team are happy to assist you when mooring and securing a transfer to the shore. If the restaurant is very busy, split two yachts with one buoy. At the entrance to the bay, Sesula Tavern is the first bay on the left.
Book your buoy and a table in the restaurant here.
Marinas
Martinis Marchi
It all started in 1703 when Marchi brothers built a tower, a church and small village above bay Maslinica on island Šolta. Venetian authorities were concerned about frequent pirate attacks so they approved the colonization of the island.
Marina itself is a part of Martinis Marchi hotel and it was opened and completely renovated in 2012. Marina has 50 berths with electricity and water supply. At the waterfront there are safe places for mega yachts (up to 35m). Marina has toilets/showers facility, Wi-Fi, café, restaurant, and heritage hotel with wellness center. Restaurant serves specialties from the traditional Dalmatian cuisine and top quality wines.
This luxurious awarded marina will satisfy all your requests. It is a great location to stop by on your sailing out or returning to our charter base in Trogir.
Book your berh in the marina here.